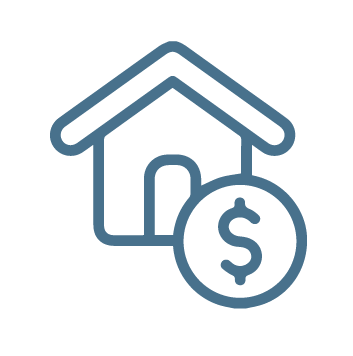 Purchase
Whether you are a first-time home buyer or more seasoned in real estate, purchasing a property is likely the largest financial investment you will make.
As licensed mortgage agents, we review your options and make recommendations for the lowest cost mortgage based on your goals.
Though the interest rate is a key factor, other mortgage features such as prepayment privileges, portability, penalty calculations, the charge type (standard or collateral), and sales clauses require careful consideration in determining the lowest cost option in the long term.
The structure of your mortgage is equally important.
Your down payment not only impacts if a mortgage default insurance premium is added to your mortgage amount and if so, how much, but also the interest rate available.
Through a complete understanding of your assets, our office can recommend a mortgage structure that balances the amount you contribute for down payment with the interest rate.
Unlike working with a bank branch directly, our office does not have a vested interest in you spending more money.
Our goal is to secure the most suitable, lowest cost mortgage for you.

★★★★★
5 stars doesn't do Corinna and Lisa justice. They went above and beyond for me throughout the entire mortgage process. I can't thank them enough for all their help!
I highly recommend them to anyone who is looking for a great customer service experience!
M. Shannon, June 2022
★★★★★
I recommend 100% if looking to sell / buy or refinance. Corinna and Lisa have made the process so easy in purchasing a new home. Very professional and quick replies when having any questions or concerns.
Thank you for your help. Greatly appreciated.
C. Sirois, May 2022
★★★★★
I cannot thank Corinna and Lisa enough! Not only do they make sure everything is in order right from the minute you start working with them, but they keep you updated every step of the way. I was completely new to how the process worked with refinancing my home, Lisa was patient and so knowledgeable, answering all of my questions in great detail and in a timely manner. I recommend the mortgage advisors to anyone in need of this type of service, you will not be disappointed. Many thanks to all the work that was done for us to make this happen!
B. Lefebvre, January 2022
★★★★★
I honestly don't think that Corinna and her team could make this process any easier. This was the first time that we have ever used a Mortgage Broker and in the future we will use nothing but.
Any questions that we had were answered thoroughly and all mortgage options were explained in detail. Unlike a bank we were made to feel as though we were wanted as a client and that our opinions were valued. Thank you again for all our assistance and see you in 5 years.
N. Brown, November 2017